By 2030, the Group is committed to reducing its emissions of greenhouse gases by a further 23% compared to 2019 and stop drawing any water from the natural environment in order to operate its sugar production facilities.


The IPCC reports are clear: it is now essential that we act in a coordinated fashion, each playing their part, to reduce the rate of global warming and conserve water resources.
It is with this in mind, also in line with its decarbonization activities, that Cristal Union has joined the Science Based Targets initiative (SBTi) which validates a company's efforts at reducing greenhouse gas emissions against a database produced on the basis of climate science. Cristal Union is also committed to going further with its efforts at eco-friendly water management.
A decarbonization plan based on 3 scopes and validated by the SBTi
By 2030, Cristal Union is committed to reducing its greenhouse gas emissions by 23% compared to 2019. This goal, validated by the SBTi, will contribute to the collective effort to maintain global warming at below 2°C by 2100.
Cristal Union's approach to decarbonization and its action plan have been validated against the 3 scopes by the SBTi.
Eco-friendly water management and a goal of 0 m3 of water drawn from the natural environment
Sugar beets contain 75% water. Water is therefore by far the primary component extracted from sugar beets, far more even than sugar! At Cristal Union, we are primarily producers of water, a precious and rare resource that we recycle fully, as 100% of the water from our sugar beets is reused in our industrial process and in crop irrigation.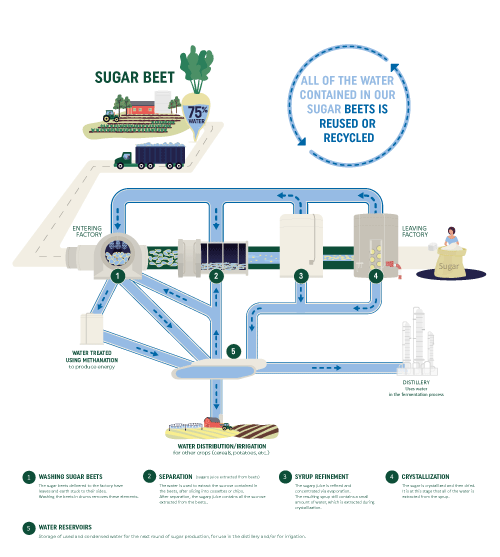 Thanks to the efforts of everyone involved and numerous investment activities, our Group has already saved more than 5.5 million m3 of water per year between 2010 and 2022.
What's the goal now? To be completely autonomous by 2030, meaning we will stop drawing any water from the natural environment in order to operate the Group's sugar production facilities. Our Group has demonstrated strong experience in this area and, at each site, we are analyzing other opportunities to save water, according to the nature of each process and specific local conditions.
An ambitious and sustainable approach taken over many years !
For years now, Cristal Union has been investing in reducing its energy consumption and greenhouse gas emissions and save water :
Between 2010 and 2020, the Group has reduced its greenhouse gas emissions by 15%, energy consumption by 8% and water consumption by 65% across all of its sites.
All Cristal Union sites have been ISO 50001 certified since 2015. This approach has meant that energy use could be assessed early on in the process on a site-by-site basis and a plan to calculate energy consumption put in place, along with targeted investment aimed at tying industrial performance to environmental performance.
To date, Cristal Union already has 3 biomass boilers and 2 self-contained biogas production units across its various sites and subsidiaries.
In 2019, the Cristal Union site at Fontaine-le-Dun, near Dieppe, started up a new biological processing unit for water from sugar production, generating enough biogas to provide 7% of the gas needed to run the sugar factory's boilers, instead of using fossil gas. This system is being studied for deployment at the Arcis-sur-Aube and Bazancourt sites.
Our target for 2030 is clear: 10% reduction in energy consumption (vs 2015), 35% reduction in CO2 emissions from our industrial activities (vs 2015) and 0 m3 of water drawn by our sugar production facilities.
By 2050, the Group aims to go even further. The goal: achieve energy autonomy by producing the energy needed to run the sugar production facilities mainly from sugar beet pulp, with the first project for an autonomous sugar production facility possibly brought online by 2030.
Xavier Astolfi

General Manager of Cristal Union

The Cristal Union Group, at its own level and scale, is committed to a holistic approach to combating global warming and adapting to climate change, with an ambitious decarbonization plan validated by the SBTi and other activities aimed at conserving water resources. Our goals for 2030 are clear: reduce our greenhouse gas emissions by a further 23% compared to 2019 and stop using any water drawn from the natural environment to operate our sugar production facilities.